The Court Of Wanderers
Get lost in an enchanted estate filled with puzzles.

Follow on
twitter
for all news, or
sign up for the mailing list
to be notified of big updates and join the
discord
for hints, feedback and discussion.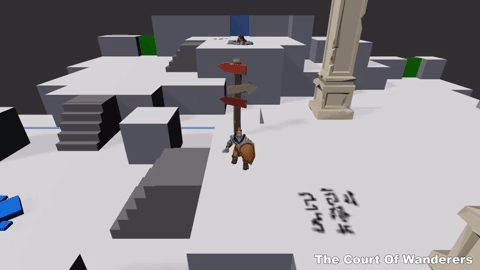 The Court Of Wanderers is a single player, logic focused, puzzle game
Where you set foot in a world filled to the brim with tightly designed, transparent puzzles that are easy to solve, if you see how...

Explore an open and challenging world
Where every basic puzzle you encounter can be solved then and there. The game will not hold your hand, and to get everything out of the game, you will have to dig deep.

Collect cubes and items
By solving puzzles and finding secrets. Use them to tease open the doors closed.

At your own pace
The puzzles start easy but become extremely challenging. Stuck? Take another path for the time being and return later with a new perspective. Or, don't return at all! The hardest puzzles are completely optional.
No tricks required
No feats of timing, quick reactions or dexterity are needed, just insight.

Relax
Messed up? With practically unlimited undo and level reset, it is never an issue.
And be amazed
As the impossible becomes possible before your eyes.

If you have enjoyed playing the game, and would like to see it developed further, please consider following me on twitter, join the discord, or subscribe to the mailing list.


For now, I want to keep working on this project when I find the time. Some things I have in mind, besides general refinement and bug fixing:
A map to keep track of unsolved puzzles
NPCs
More puzzles
Brand new mechanics
Adding more and better 3D models